For various reasons I have to keep my modelling simple and not too expensive. So here is my baseboard design:
40 x 10mm stripwood frame, filled with bluefoam board (Styodur)
Overall dimensions: 800 x 435 mm.
The dimensions were designed, because I have to store my modules in standard IKEA-Ivar shelves. We use the ladders to support the layout.
We presented this modular Gn15 arrangement earlier this year at an NG exibition in Germany.
For a Diorama Box on top of my
baseboards
I use 3mm cardboard, strengthened with stripwood inside the edges. Of course, lights have to be installed. It gets very dark inside boxes. We use manly strips od LED abd a 3-channel light organ for each modul.
To protect the diorama modules on transport or at storage rooms, I fixed some foldable flaps to the front and sides. The complete box measures 800 x 435 x 443 mm (high)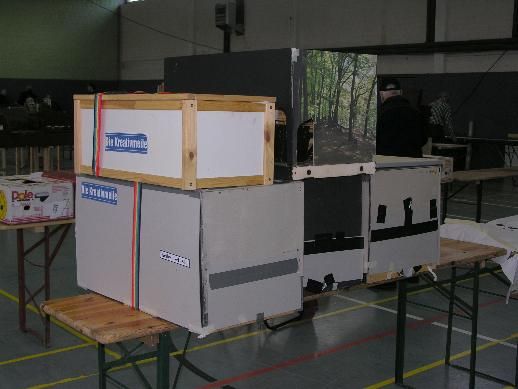 A baseboard costs me approx. 6 - 8 Euro, a complete diorama box incl. baseboard about 16 - 20 Euro. I buy the cardboard at an artists supply shop. They got huge machines there, to cut the material. A sharp knife or a table saw can be used as well.
The last diorama box I built, the one with the lightweight alluminum rocks, weighs less than 3 Kilos, incl. rails. APA boxes I use to transport rolling stock and the RC transmitters.
Have Fun
Juergen