Now that the decks have been cleared a little with the sale of Wood Bros and Watts' I'm beginning to work in a new direction - Heywood and estate railways.
As a starter I've bought a Smallbrook 'Katie' kit and a second-hand 'Smokey Joe' to see what I can do with them. To begin with, I dismantled the 'Smokey Joe' - I feel a bit happer ripping a second-hand one apart than I would doing it to a brand new one!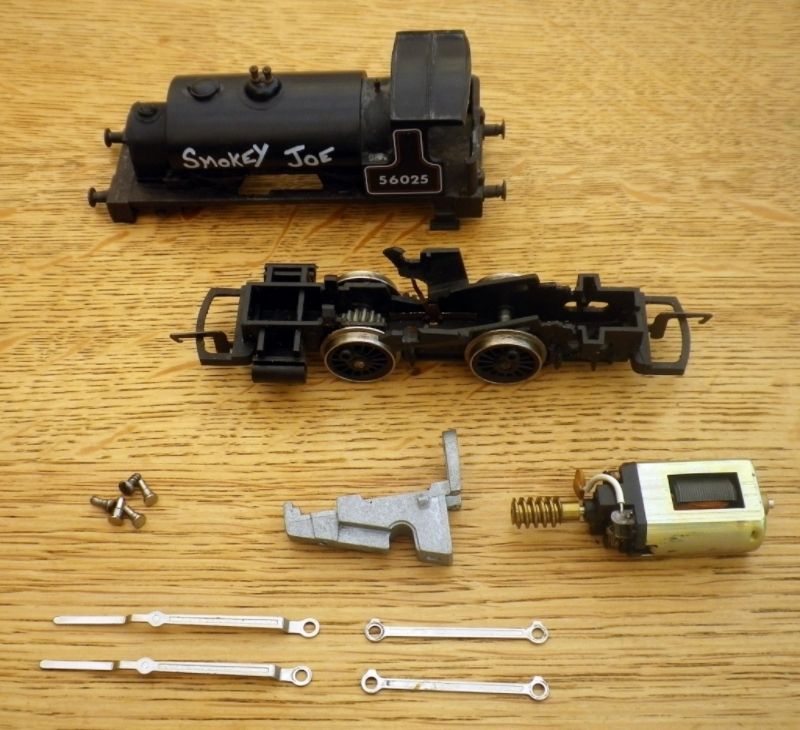 This is what I ended the dismantling stage with - the rear set of locating lugs for the body have been broken off - that's what you get for buying second-hand!

The basic chassis comes down to this, and presents the compromises that will have to be accomodated in making the Smallbrook 'Katie'. First up, it's inside framed, and only 'Effie' was that, so the imagineerium solution is to hypothesize a hither-to unknown intermediate stage between 'Effie' and 'Katie' - same size as 'Katie', same inside frames as 'Effie'. Perhaps I'll call it 'Kaffie'?
The second problem is the spoked wheels of the 'Smokey Joe' - so that was the next task:
The 'Smokey Joe' chassis with the spoked wheels filled in with Green Stuff - things are still a bit messy, but shouldn't take too much cleaning up. I've also sanded off the extraneous bits from the frames - sand boxes, brake shoes and cylinders - and filled in the holes in the rear of the frames. Also consigned to history are the Hornby couplings and associated bits. The chassis as bought has the Scalextric motor, which a bit of research tells me is not very controllable in railway usage, so I've bought the latest motor and mount and modified the chassis to fit it in. Surprisingly, it still works when I put it all together, so I'll sit back and bask in the success so far.
I'm off to Berlin for a week, so I'll let things sit and mature for a while, and see how they look when I get back.
Hours of fun!