Hello again all............
This project has been mentioned in the "Hello" part of the forum. So I thought I'd outline here what it is I'm trying to achieve?
Basically it's a street scene "Belle Lane", and is to be rendered as a dioramic backdrop. In my mind there are a series of interlinking stories and drama's that will be illustrated with a cast of characters - sort of like a "soap" if you will.
Anyway this is the first of the addresses and will be the home of "Stella, and Vicky" - and more about them later.
So, the front door and porch to Stella's flat - No 6 Belle Lane. ...............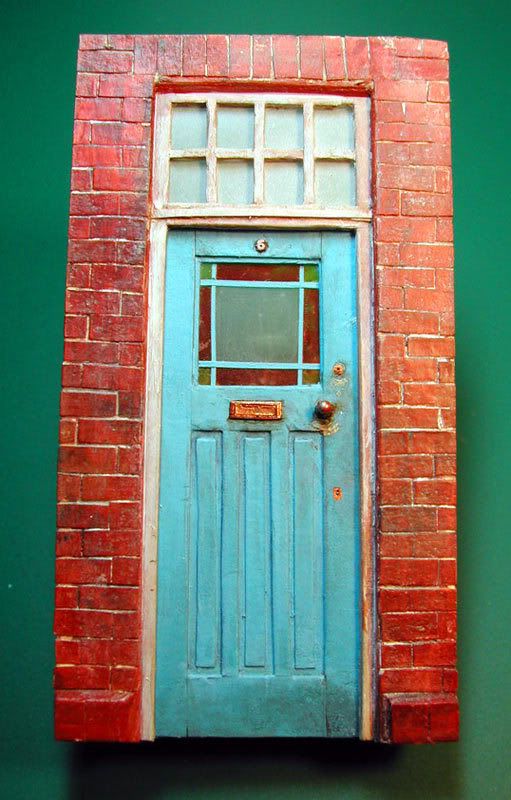 As an aside it's pretty much to the bi-scale of 1:24/25. Being actually measured for ease to the now classic 1mm equals 1 inch.
There's a little bit more to bring this portion of the project up to speed if you're interested, but thought I'd post it as it was constructed. Not a tutorial persae [sic] but rather a potted history of the assembly so far.
I realise I'm going to need the collective efforts and input of many members experience to help me sort out the problems of including a Narrow Gauge element within the project as it stands. I'm envisaging a base length of around four foot or so, depth of a foot, no more than 18 inches I wouldn't of imagined.
I know it's difficult without a full understanding of what's intended - there is a strong philosophy behind what I'm trying to achieve, but suffice to say there will be a proper street scene spanning a timescale history between the 20's up to 1959!
Again the street will be populated with a cast of characters and set into dioramic poses for a photographic record - presented as a history of Belle Lane as a community. [The notion being that the Photograph becomes a two dimensional model - whilst the three dimensional one is allowed to grow and evolve naturally to spawn yet another 2D model at a later historical point.......... da' ya' get it?]
So, the first problem here is to come up with a plausible reason to have a N/G track running along or through or across the street that can be seen to have naturally evolved as the
village
/town/area developed and grew. [I would prefer an industrial flavour] But if it could be possible to accommodate as many different reasons all the better.
Much MUCH more to talk about - Explain, hope you can bear with me till I can bring my thinking into focus for you all??
All the best for now.........
Andi.