You all probably guessed that I am having one of my "bursts of modelling " - so while the gods are with me a little progress piece on my latest project.
All started about 7 days ago when I saw this
http://forum.gn15.info/viewtopic.php?t=5470
Thanks Forrest , you always come up with interesting stuff.
Which led to this
which led to this
These were made from wood dowel and bits and pieces, the small nuts at the front came from some Hornby wagons ( seemed to remember they held the body to the chassis and I kept them - just in case.............
And yes I did try the lateral thinking process, vic vapour tubes weren't big enough, some plastic bombs and drop tanks in the bits box were just about right but there was never enough to make the 5 cylinders I needed
Turning 5 cylinders in my Black & Decker all to the same size with same radiused ends was an interesting learning experience.
This is where we have got up to now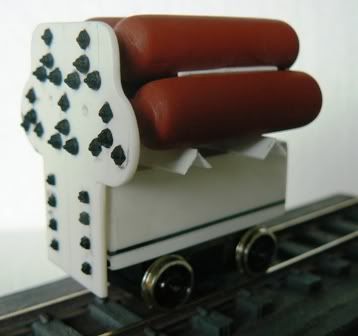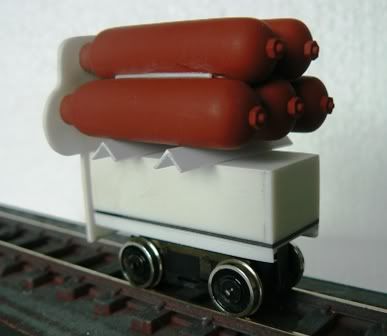 Although having taken the photo's realised that I had done it again
I'm always thinking that when I read of people doing mock-ups in cardboard before final construction - that's a good idea must do that in future.
do I , not a chance..............
So you see looked at these pictures and realised that the dimensions of this (not very scale model) didn't look right .
So nearly finished with new chassis - the bit that sits on top of the "spud" happier with it now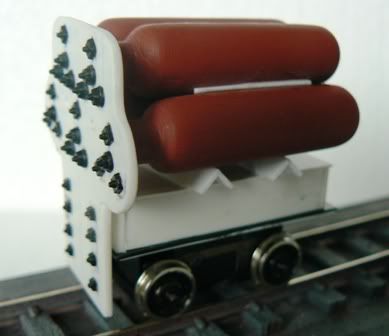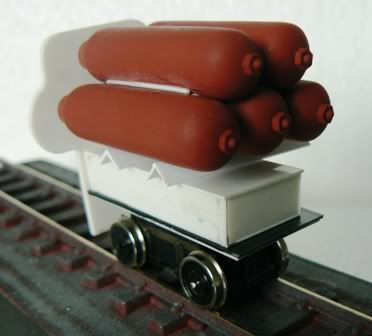 If you look at the original photo you will note the different sized wheels - I did take the spud apart to see if I could change the wheels - but then realised would need to alter axle centres , gear ratios, etc ........ so just put it all back together again, maybe another time
Will be working on drivers compartment later so will post progress shots when progress happens