Let's get this Critter started!
For many years, my model railroading has been an on again / off again tale. Some tentative projects, usually based on escalating plans that collapsed under the weight of their ambition and various other obligations. Needing a break from slot cars, and finding this Gn15 forum very conducive, I've decided to obey the old adage, "A job once started, is half done."
So, after unearthing accumulations from year's past and a few weeks of shopping at the local hobby shop, big box stores and "The Largest Model Train Store in the World" (Charles Ro's word's, not mine, but living less than a half-hour from a G-scale landmark has its benefits!) I had reason to start. I'm particularly interested in modern narrow gauge, modeling what might be (based on some prototype precedents), not necessarily what's already been done.
Exhibit 1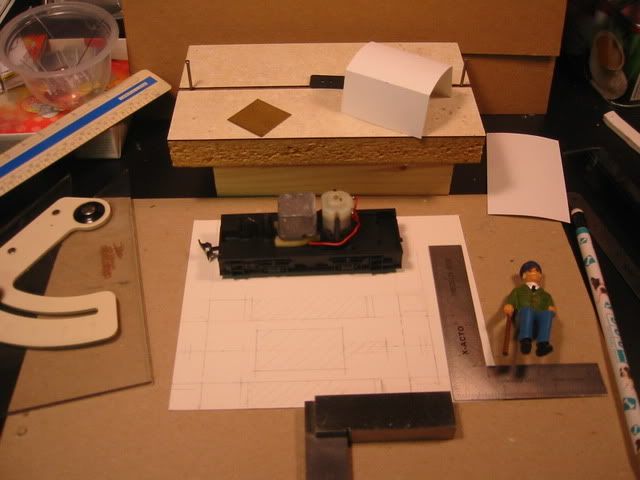 HO Model Power (Hustler I think?)
LGB Seated People pack. I choose Mr. Conductor because his sheleleigh (sp???) helped him sit upgright.
Body off of the Hustler with one screw, it doesn't get better than this.
In order to hide the too small details at either end of the chassis, I figured I'd make a cover of cardstock. Following, Dieselwater's idea, I could swap bodies onto my solitary chassis.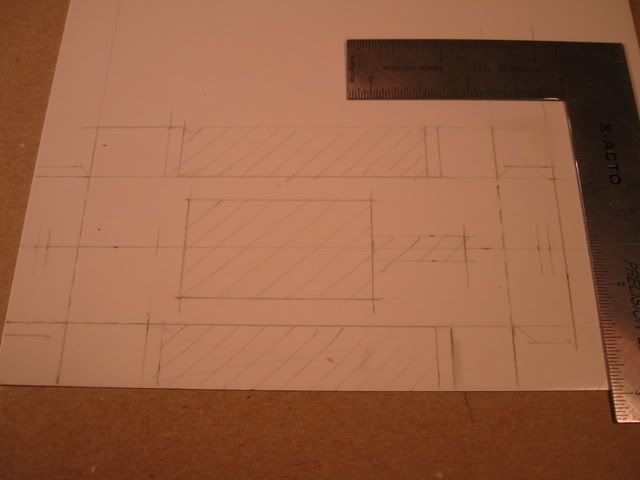 I drew the chassis cover directly on the coated cover weight cardstock from my stash (I wish I'd made a copy - should'a used CAD!) and cut to size with gluing tabs in a few spots. Using the various squares as T-squares against the side of the paper worked well to keep things, well ... square.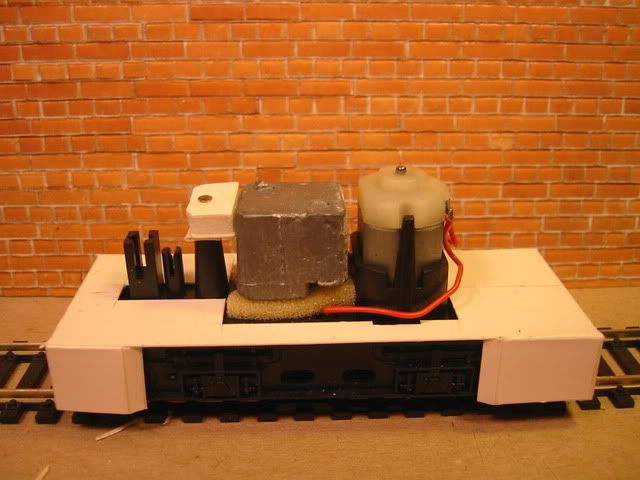 After getting my sorta Lister mocked up, I did a few sketches. I hadn't specifically planned to go modern era, but I followed my pencil.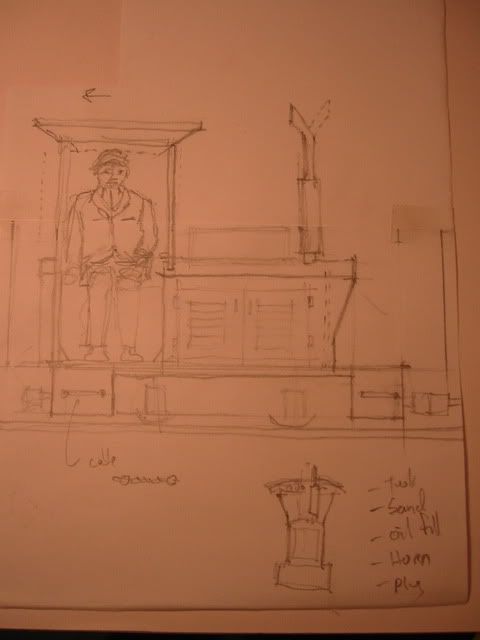 The first sketch looked like a mid-century design, mostly orthagonal, no geometric fun or corporate safety criteria. The thin roof supports were definately old-school. I did like the angled cover at the radiator and the roof projections. So, I threw some trace over it: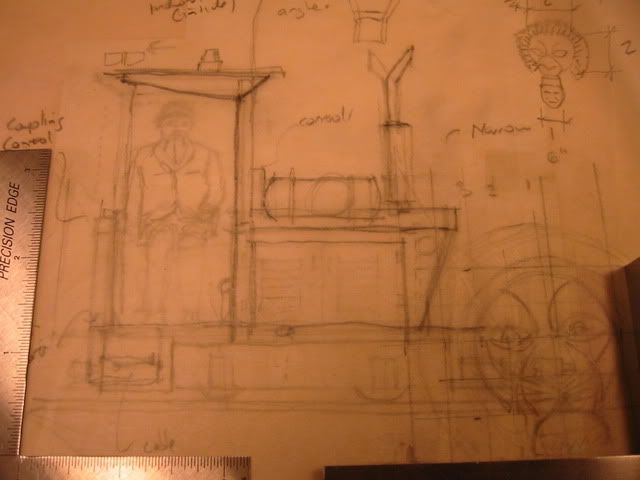 (Mufasa's headgear was last year's project - son's school play - and will not show up on the model!)
I've been looking at current construction equipment, and the industrial designers have had a free hand with power angles and tapers. They all look like Japanese mecha warriers. The key detail was the roll bar and angle roof support. Now I was getting somewhere.
A quick sketch before bed and the next change was to slope the hood forward, typical of many backhoes, for better forward visibility. I added sun shades, grab bars, lights, antennaes and all the other appurtances that sprout on OSHA-regulated, fleet-owned vehicles. Added some character, looks a bit sassy. It's a cute scoot. The Model Power chassis has a rolling gait as it hunts side to side, this should suit the body well.
Tonight, I tried to quickly make the sketch a reality.
Folded up a new hood with some side access doors sketched inplace. Mr Sheleleigh tries it out (gotta reduce that radiator cowl angle a bit).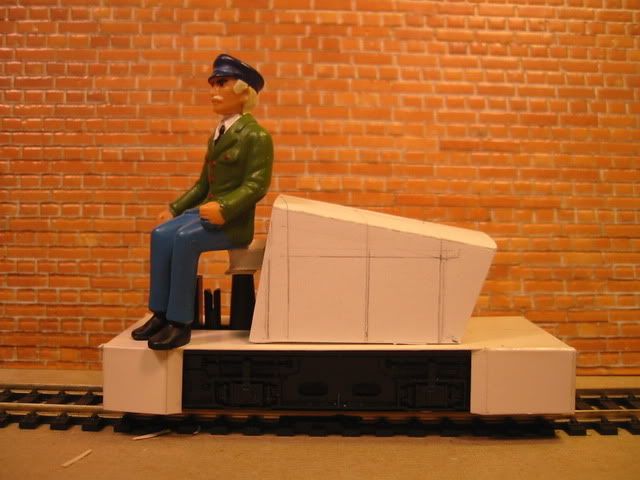 Made a cardstock roof panel and basswood support panels. This scale is big: didn't expect to be making a lap joint in wood on a model! Made some curved roof supports too.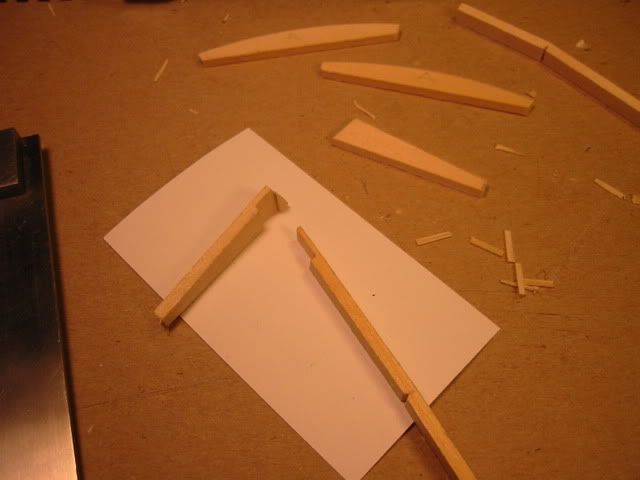 How often do we hold up our next detail on a model and consider "Is this right? Higher, lower, back, forward....hmmm."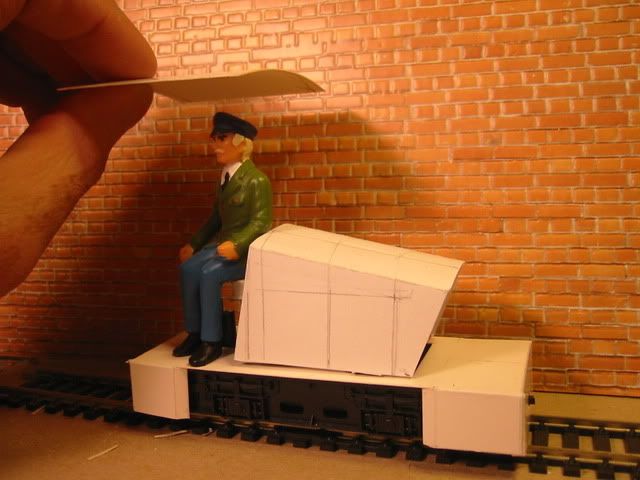 No excuses now, I started it .