Steve .......... a belated thank you for your input, I've since managed to create enough clearance but it still struggles to make steady progress. It's one of those jobs that's going to take a lot of niggly fettling me suspects?
And the reason for opening this thread after such a time ........... A silly update on nothing special. Just though I'd pre-empt the potential "how did you do that" post!! Although unlikely, but the camera was close to hand so whilst tiffling about I took a couple of shots.
So Ladies ................... Stones!!!!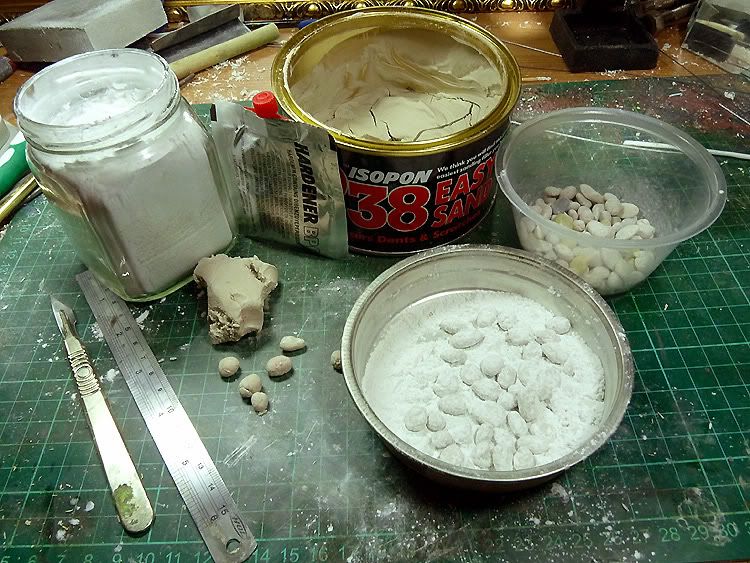 Nothing special as mentioned but I'm hoping they'll look OK once they've been planted? Came about really because I hadn't put the lid on my filler tin particularly well and it had dried out somewhat. Rather than waste it I'd already been rolling excess Milliput and suchlike into stone shaped balls and was going to use them as detailing bits as and when I accumulated enough.
Finding the filler dried out just gave me the opportunity to make stones on an industrial scale.
Picture should be self explanatory? - Take small hunk of filler - add small dollop of hardener and after mixing just tear off little pieces and roll into bogey shaped balls with a little squeeze at the end to flatten them slightly - drop them into a dish of talcum powder and "swizz" around till they are fully coated. This smooths out the surface and takes any "sticky" off of them.
Easy peasy really ............. not sure if anyone would do this on purpose but it might put the notion into someone's head enough to start there own collection of stones!!
I included this pic' for a scale comparison but its subject to such foreshortening that it looks all wrong and they appear -waaay- to big.
They're not that bad at all and remember there going to be buried by half into an earth surface.