Hi all..............
Just a quick post really to let people know I'm still around, and I'm still doing at bit on the "Top Yard".
Things are running a bit slow as most of the time is taken up with pre-empting my own thinking somewhat. In as much as I'm trying to work out a simple system for mounting and demounting the buildings and such from the layout - not as simple as it first appeared as I'm having to base decisions on other assembly's that haven't even been built yet, or there positions been determined - I suppose this is why some folk plan ahead??
Anyway - here's a bit of an update on the Estate managers office [nee Santo's].
I've laid down the base and covered with "flag's", you can't tell from this but there are several different textures and a lot of fine detailing like wear along the sides where trucks and machinery has scored and ground at the kerbs, I've tried to tilt various slabs as well to show an age of weight that's been allowed to rest or pass over them.
I'm hoping! - or intending that the paint and finish should bring this out to greater effect?
In this shot you can see the side of the "office" that leads to the outer gate, the large post up the side of the office steps will carry a gate that limits any line of sight to the rear of the layout. The arch beyond allows the return rail of the loop to pass through - and the further half arch is a bit of "pinched" scenery that will extend beyond the layout in order that the building reads as much deeper than it physically is!!?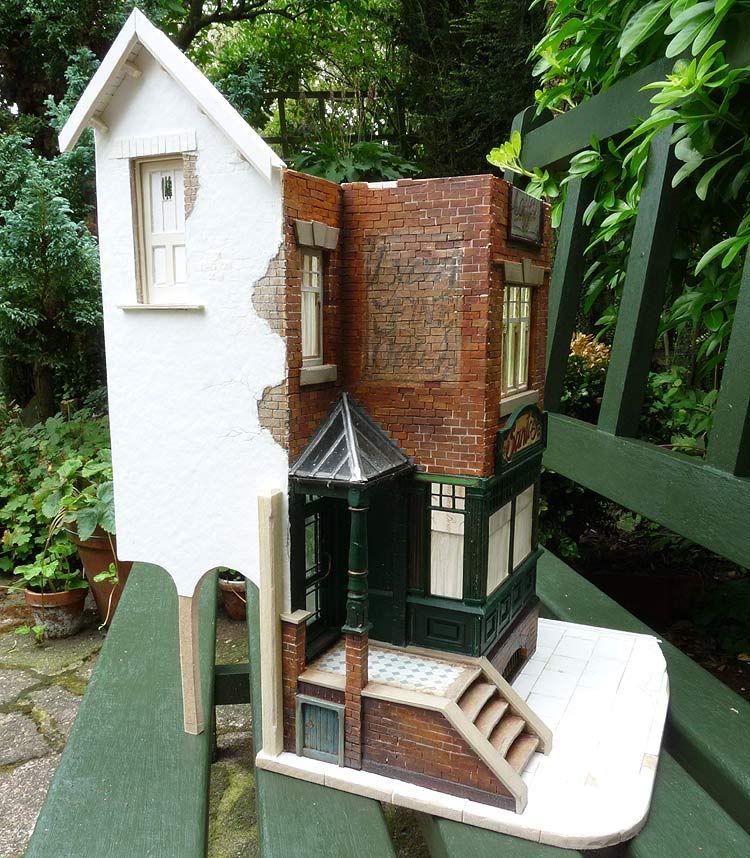 This will enable the use of the gable door to carry an aerial walkway further to disguise the rear of the layout of it's obvious dimensions....................... Sort of "Smoke and Mirrors" if you please.
The rendering is again textured paper over, with the bricks engraved straight into the MDF wall under. With the buildings being demountable weight isn't so much of an issue and so this provides a rock-steady "Mating" surface for assembling the other buildings against.
More as I get it done........................