I've been singing the praises of depron as a great choice of baseboard material, and so when George, my four year old son, found a piece of flexitrack in "my" room, I couldn't resist his plea of creating a layout to put my money where my mouth is.
And so, here we go!
A simple baseboard, cut out of some off cuts of 6mm depron, braced underneath with some more off cuts approx 30mm high arranged in a sort of criss cross pattern underneath. This resulted in a very strong, solid arrangement, enabling me to hold it at one end with no flex at the other. It's held together with UHU Por and this was applied to the strut, squished around a bit, separated and left to dry. After drying, it was then put together and it stuck. Solid.
The rail was applied in a similar way, applying the adhesive to the track, and smearing it along the route marked out and when dry, bought carefully together. A lot simpler than the double sided tape I normally use.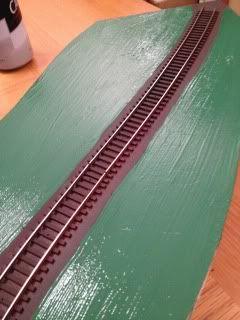 The rail was sprayed rust (red oxide) and sleepers brown before the surrounding areas roughed in green (emulsion tester pot)
Here is master George applying the mod rock to the cardboard framework on the left and the free formed kitchen roll hills on the right.
Painting the hills green after much persuasion. George like the snowy effect of the hill, the mind of a four year old seems hell bent on putting a Christmassy tilt on every thing they see!!!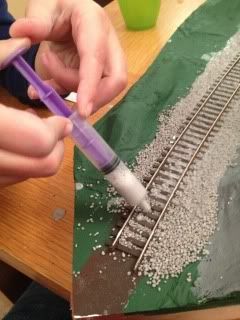 Ballast in place and being fixed with gloopy glue (pva), watered down black paint and a spot of de-wetting agent (washing up liquid!). I don't think the mix was quite right. It didn't flow quite right and I thought the paint would help pick out the bits of ballast rather than making the mix grey. We'll see in the morning when it all dries.
The grass has been started and the rock areas been painted grey.
This is George's railway with my help. He's making the calls with the scenery and I'll be assisting him where needed. The rolling stock will be, according to him, a wagon and a diesel. With it being a short end to end, I think I'm going to finally try the RC method, so a dt speed controller will be ordered and a small pager motor put into use via o ring drive to a simple wagon axle'd loco.
That if George lets me!