The Kraehwinkel Eisenbahn Gesellschaft (KEG) aquired some new rolling stock.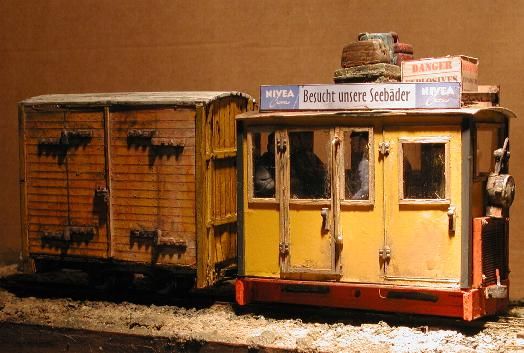 Found the basic idea in Oliver Zoffi´s pages:
http://www.zoffi.net/MOBAZI/files/Gn15_Draisine.pdf
http://www.zoffi.net/MOBAZI/anlagen/GN15/GN15.htm
Since Olivers design is more or less in 1 : 24, I had to enlarge it to 1 : 22,5, printed it on adhesive paper and glued it to 1mm clear plastic material (Vivak, made by Bayer)
My main concern was, how to actually fit passengers and a driver into such a small vehicle. And how do they get in and out. Where to place doors.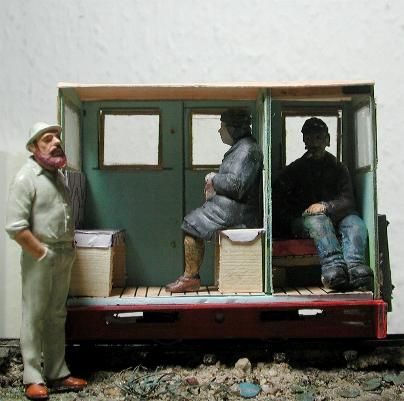 There is not much room for baggage, so it had to go on top of the roof
You neverknow, where the critter will run next, so I made the advertising board on one side in French.
On the right side I drew the window line 10 mm lower and installed a central door. Made the driver compartement door removable, as I am not sure yet, if I need or want one.
The unit runs with a small Austrian made Hallig drive. Door hinges are from Ozark, window frames from oak 2 x 1 mm stripwood. Various bits and pieces from the junk box.
Have fun
Juergen