Or perhaps a better title would be "Mucking about with skips". Some while ago I bought a resin skip from Mac's Mouldings, and it's been sat in the back of a drawer. At MOMING I got talking to t'other Bill about weathering, and he described using salt crystals to get the peeling paint look, so I thought I'd give it a go on the skip.
First off I sprayed it with red oxide undercoat, then slapped on a thin coat of 'rust colour'. Then I got the pack of 'Rock Salt for the Table' and tried to get the crystals to stick with water. I put some water on first, but sprinking then dabbing the crystals with a water-filled brush seemed to work better. Then I sprayed with yellow.
That last statement sounds innocuous enough, but things didn't go quite as planned. First mistake - the placing of the salt - it was random scatters with no real thought as to where the rust would occur. Next mistake - not waiting for the water to dry - spray acrylic on water does some odd things
Finally, the spray head on the can must have had some dried paint in it because it started to splutter and the paint came out in globs and splashes. After the usual running about and shouting, I decided to let it dry and see what happened.
I started to brush off the crystals with my fingers, but moved on to use a wire brush in the hope that I could scratch up the surface. In the end all it did was remove the peeling edges of the spots where the crystals had been, and I was left with a yellow-ish skip with random blobs of brown. Rather than bin the skip I went back to my older techniques - using water-soluble colour pencils to make rust marks, and scratching and rubbing paint off edges - the artists acrylic dries more slowly than car undercoat, and I could get it to flake off.
The final results: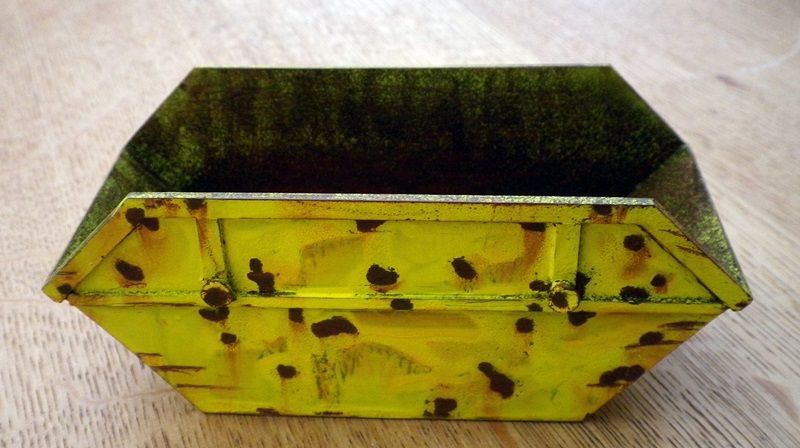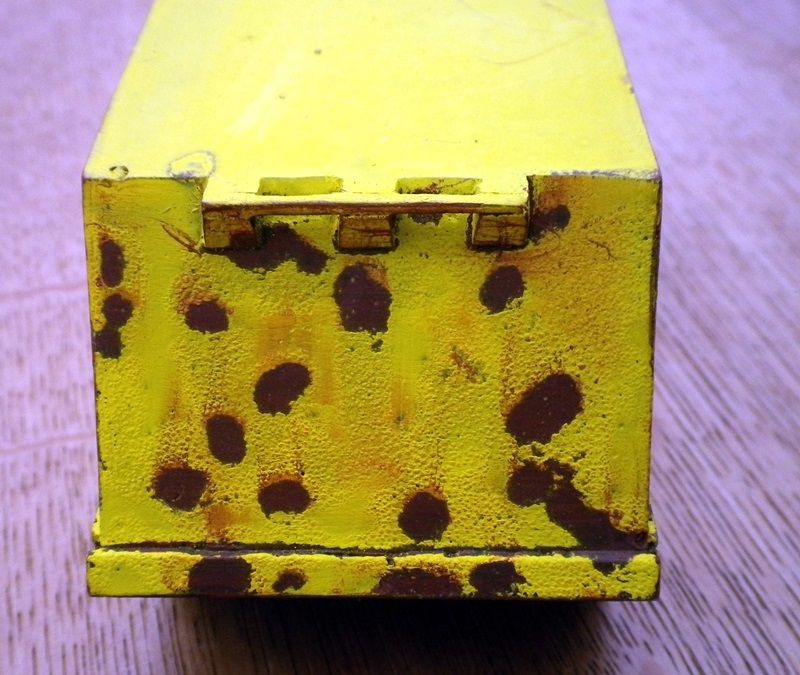 The last shot shows some 'interesting' effects where the paint and water have reacted - not easy to control though.
So, I like to think that the final result looks like a battered old skip that has been badly repainted so that the rust patches are coming back through the paint - but it could just look look like a screw-up