Well the title is a little misleading, as these are kinda half relief bricks, but that didnt sound right. Spotted on Steve Warrington's
Back2Bay6
stand at Leeds last weekend were a new (I think) range of brick and tile products. One glance was enough, I had to give them a try. More on the tiles at a later time, but for now I'm concentrating on the bricks. These are designed for the 1/24th dollshouse market, individual bricks for cladding the walls. They are made of a clay material, a bit like terracotta, but not as hard, maybe they just havent been fired
. A clever design feature is that they taper out a little toward the base on two sides, giving automatic spacing for the mortar.
Being as these are not fully 3D bricks, rather like tiles, they are quite thin, a little under 2mm thick. It struck me they looked a similar thickness to the height of code 100 rail, you can probably guess where this is heading, yup, ideal for inlaid track. Straight forward enough
Well not quite, but more on that in a minute. Here's a few pics before you get too bored with my writings. A nice simple brick laid walkway across the tracks was used as a test piece. Here it is in place on a length of Peco Setrack, it works fine with the 0-16.5/On30 track aswell.
This second pic shows one of my wagon underframes fitted with Bachmann wheels, which have larger flanges than those I normally use, as I wanted to make sure the clearances were ok. It rolls through here fine.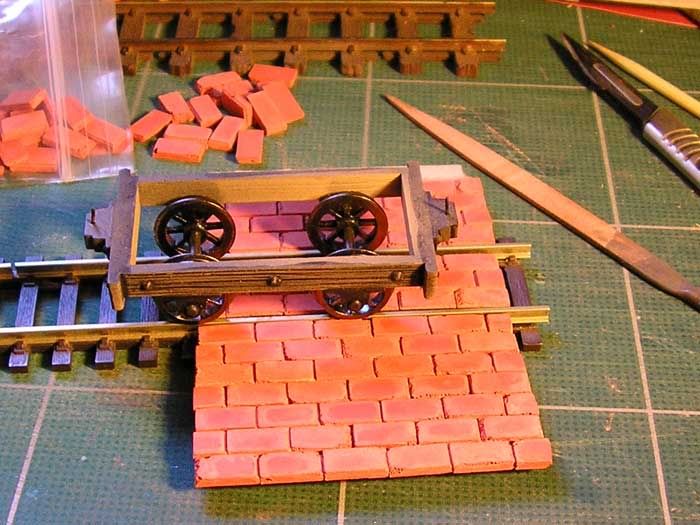 I used what are described as "Weathered" bricks, I thought they would work better on the ground than the ordinary type. This overhead shot shows the variety, the edges are deliberately uneven, honest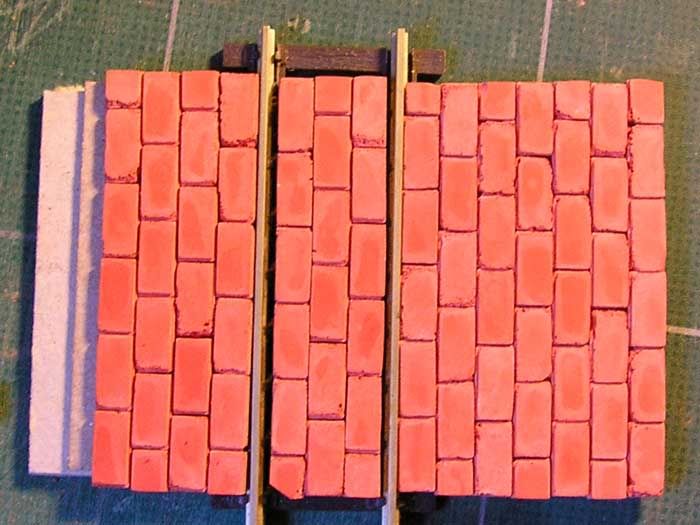 And a second overhead with the wagon underframe on it. The clearance is quite tight, but I dont think would cause any problem on straight track, I'm not sure I would want to try this on a curve, but these things are so easy to work it should be possible if you have the patience.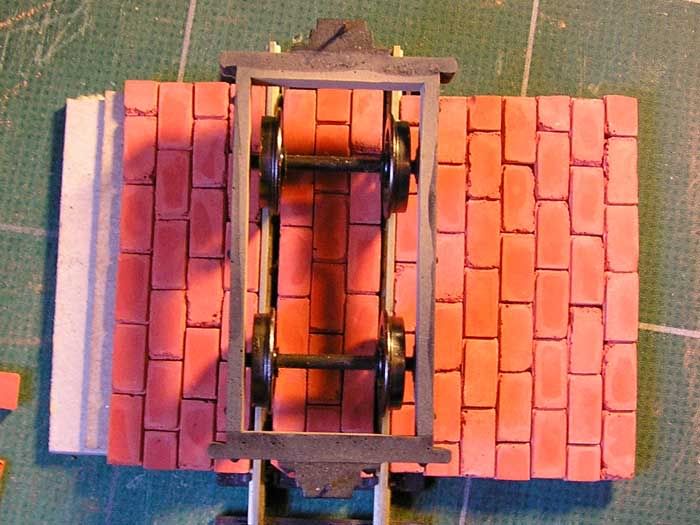 Now, this you would think would have been a fairly simple task
. It would have been if I had taken the sensible option and soldered rails to copperclad for the track. But no, I had to accept the challenge of using ready made track, the problems all came from the rail fixings, they do tend to get in the way if you want to put anything close to the rails. The solution once worked out was simple enough. Mounting the bricks onto card slightly inset from the edges, then using a file to put a taper on the underside of the bricks was enough to clear the rail fixings. It should be noted that the soft nature of the bricks makes them easy to work with a file, note how clogged up the file at the right of the picture below is. Hopefully this shows what is required to use them with ready made track.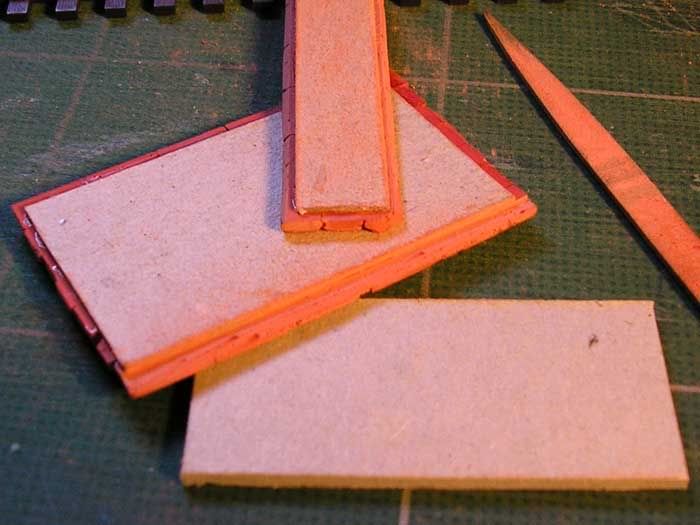 Sorry, I have gone on a bit, but I really think these have a lot of potential uses. I suppose a few details on cost are in order
. These brick slips, come in packs of 150 for £2.60. This should give a coverage of 11.5 square inches so it will be obvious that to do a complete building will be quite expensive, but to use in smaller areas as I have, the cost is not going to amount to much and I think this will be where they are most useful.
OK thats me done, maybe I will have a play with the roof tiles later, then I can bore you all again
.