(With apologies to S J Perelman)
Back in November I posted an item in the Trade section about a kit for a Diema loco in 7mm scale, made by Graham Baker, which I bought with an eye to bashing it into a Gn15 Diema might-have-been.
I finally got it onto the workbench to make a start but, after a lot of measuring and comparison with prototype pics and other models, decided that it was a bash too far. The footplate and engine compartment are very narrow for Gn15, so I would have to shorten and widen the footplate, as well as shorten the engine compartment casting. I have doubts about an inside-framed loco in that scale anyway, so I decided to build a Diema-like from that magic material, scratch.
I took the kit up to Burton a couple of weeks ago, hoping to sell it on the 7mmNGA second-hand stall but found no takers, so I'm assembling it as intended by the maker (there's a first), with a view to trying to sell it in that state. There were no instructions with the parts, so it's been an interesting build, now ready for painting.
Meanwhile the plasticard and Plastic weld have been deployed and a basic footplate and engine compartment achieved. The comparison between the 2 engine compartments shows the disparity in width: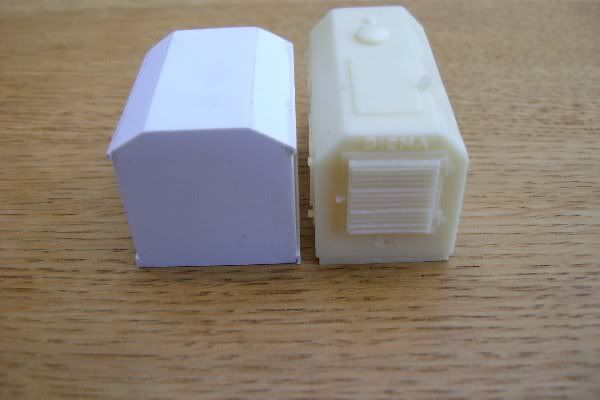 I am basing the Gn15 version on the Diema DL8, and found a web site with photos of one of this model dis-assembled into a kit of parts for restoration
http://www.zonetopic.com/17455022792-diema-dl8
There is also a drawing of the DL8 at
http://www.buntbahn.de/modellbau/printv ... 67&start=0
There is some vertical distortion, but I down-loaded the plan and stretched it to make the wheels circular, so I'm using that to get some basic dimensions. They match the dimensions of Wot-the-Deutz quite well, so something must be right.
Progress so far:
I'm now working on the axle-boxes, cutting out lots of tiny pieces of plasticard and losing half of them in the carpet. Onwards and upwards